Penetration Testing Services
Our offensive security services include external and internal Penetration Testing, Red Teaming, Social Engineering Pentesting, and advanced Security Awareness workshops for IT experts and managers.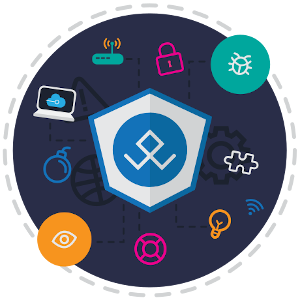 Penetration Tests may be the most widely known type of cybersecurity services. Companies use third-party Penetration Testing services to measure the overall efficiency of a cybersecurity program. Also, many national and industrial regulations require it.
Running a pentest assumes that there is a level of security capacity in the organization. However, many companies use it as a starting point in their cybersecurity program. We recommend new clients to order a pentest if they are sure that it is what they need. Alternatively, we offer an Infrastructure Security Assessment first.
We offer the best-in-class Penetration Testing and Red Teaming services for the organizations that are ready for a security challenge.
Similarly to external Penetration Testing, Infrastructure Security Testing aims at discovering the design and implementation deficiencies in the organization's IT infrastructure and produces actionable recommendations on remediation and improvement.
However, unlike the pentest, the Infrastructure Security Assessment does not use offensive techniques; neither does it assume that the organization already has an impenetrable cybersecurity posture. Instead of focusing on finding particular deficiencies, we perform a purely constructive and positive exercise aiming to elevate your cybersecurity level.
Social Engineering Pentest
Social Engineering pentest applies Human Hacking techniques to measure your staff's ability to defend against malicious social engineers.
Many security professionals agree that it is easier to manipulate a human being than to hack into a computer system. Companies do not do enough to fix that, although they also regard humans as the weakest link in security systems. For instance, many organizations omit Social Engineering when scoping a penetration test.
We believe that Social Engineering is an essential part of every attacker's toolkit, and testing against it should be a part of every organizational security assessment.
Security Awareness Workshop
Protecting the organization against modern cybersecurity threats is hard without showing the executive management and employees at positions of trust how to combat current cyberattacks.
We have developed a Cybersecurity Awareness workshop that covers the most critical threats. Working in small groups, we train the audience to detect attacking attempts, to protect themselves and their business against malicious hackers, and to share this knowledge with their colleagues. We help organizations form training groups in a way that plants a seed of robust security culture in the company.
Our training elaborates on more than a decade of network and social engineering penetration tests performed by our experts. 
In only three weeks, Berezha Security produced a report and re-checked things to ensure there were no security gaps. They offered free advice and communicated efficiently, promptly addressing all questions related to their findings. Overall, they're an experienced vendor in the cybersecurity field.
They helped locate and resolve bugs in the client's system, meeting the expectations of the internal team. Berezha Security collaborates effectively with the client. The team leverages its technical expertise to ensure a successful project.
Their involvement was essential to fixing design flaws that could've led to cyberattack and other issues. Berezha Security's highly technical feedback not only improved the platform but also shed some light on things to take into account for future development work.
+380 (44) 364 7336    +1 (315) 303 2323

6 Nimanska St., 41, Kyiv, Ukraine 01103
77 Sichovykh Striltsiv St., Kyiv, Ukraine