Penetration Testing & Application Security Testing services
We provide Application Security, Penetration Testing, and Software Security services. Test your mobile app, system software, or company website for vulnerability. Get a concise report and one free retest of all findings.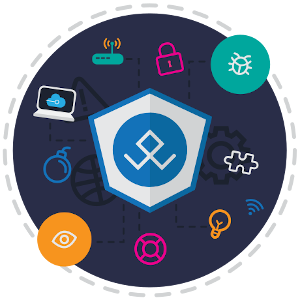 HOW-TO
Not sure what security services you need?
Let us know where you are in your security journey, and we will recommend the best steps on your way forward. Contact us for a discussion about your business context, strategic priorities, compliance requirements, and actual threats. We are sure we can add value.
SOFTWARE PENTEST
Application Security Testing
The purpose of the Application Security assessment (or pentest) is to identify flaws and vulnerabilities that may be exploited by malicious hackers or malevolent users to compromise the application's business logic or sensitive data.
Organizations often struggle to find competent experts who could review the security posture of their software in a non-automated manner. The market is full of service providers who start away with an automated scan using one of the off-the-shelf vulnerability scanners and then attempt to narrow down the results by reducing the number of false positives.
Unlike them, we apply only relevant security tests and guarantee a much higher quality of results and zero false positives.
APPSEC AWARENESS
Application Security Training
Application Security awareness training is a starting point of a successful software security program and the basis of secure development culture in a product team. Also, it is recommended by the OWASP SAMM secure development framework as an essential practice of Education and Guidance function.
We have developed a training program that focuses on software security practices that we see crucial based on our profound experience in Application Security consulting. During a week of daily 3-hour sessions, we help development teams build a solid understanding of fundamental security engineering principles and software security practices. After the training, your development staff holds the optimal amount of software security awareness and their role-specific security knowledge.
DEVSECOPS
Application Security Consulting
For the clients who are willing to build software security into their development processes, we offer guidance on how to do it quickly and effectively. We also provide outsourcing for Application Security practices of your choice.
Various approaches allow organizations to reach a decent level of software assurance maturity. Several methodologies help achieve this goal. At the same time, less than 20% of generally recommended Application Security practices are crucial for every organization, and choosing the optimal subset of practices requires reliable intuition built on profound experience. Do your programmers need extensive security training? What software security testing tools and techniques should your QA use? Is your budget enough for a capable code review automation solution (or do you need one)? Coping with these and other questions could be hard if security is not your organization's core expertise.
We help you select relevant security practices for your development teams. We then help implement those practices or provide them as a service.
INTERNAL PENTEST
Infrastructure Security Testing
Similarly to the Penetration Test, an infrastructure security assessment is aimed at discovering the design and implementation deficiencies in the organization's IT infrastructure, and produce actionable recommendations on remediation and improvement.
However, unlike the pentest, the IT infrastructure security assessment does not employ offensive techniques; neither does it assume that the organization already has a mature cybersecurity function. Instead of focusing on finding and highlighting deficiencies, we perform a purely constructive and positive exercise that aims at the improvement of your cybersecurity posture above its current level.
EXTERNAL PENTEST
Penetration Testing Services
Penetration Tests may be the most widely known type of cybersecurity services out there, for many national and industrial regulations mandate it. It is often used for measurement of the overall efficiency of a cybersecurity program.
Although the pentest presumes some level of security capability already present in the organization, many companies use it as a starting point in their cybersecurity journey. We do not recommend new customers to order a pentest unless they are sure that it is what they need. Instead, we advise starting with an IT infrastructure security assessment first.
For the organizations that are ready to have their security challenged, we offer the best in class penetration testing and red teaming services.
VIRTUAL PENTEST
Startup Security Healthcheck
Most startups do not explicitly focus on Application Security or cybersecurity in general. From the economic perspective, this behavior seems only logical: startup success rate is low, and with this business risk in mind, it is wiser to delay the sunk cost of security spending and focus instead at the stuff that matters at the moment.
Although justifiable early in the organization's lifecycle, this approach causes many troubles once the startup reaches success in a privacy- or security-regulated market. Building security into the software products later is more laborious, much more expensive, and could harm software functionality.
We help startups prepare for their future security challenges by conducting a threat modeling session, interviewing development staff on Application Security matters, and performing an express application security assessment of the MVP. And for Ukrainian startups, we do it for free.
SOCIAL PENTEST
Social Engineering Assessment
Social Engineering assessment applies the so-called Human Hacking techniques to measure your employees' ability to protect the organization against malicious social engineers.
Most security professionals agree that it is easier to trick or manipulate a human to give away sensitive information or act in the attacker's interest than to hack into a computer network. Humans are widely regarded as the weakest link of modern security systems, but little is done to fix that. For instance, many organizations omit the social channel of attack when ordering a penetration test.
We believe that Social Engineering is an essential part of every attacker's toolkit, and testing against it should be a part of every organizational security assessment.
HUMAN FACTOR
Security Awareness Workshop
Protecting the organization against modern cybersecurity threats might be hard without showing the executive management and employees at positions of trust how to combat modern cybersecurity threats.
We have developed a program for a full-day cybersecurity awareness workshop that covers the most critical and impactful threats. Working in small groups, we train the audience to detect attack attempts, to protect themselves and their employers against malicious hackers, and to share this knowledge with their co-workers. We help organizations form training groups that contain employees having a formal, expert, and social authority, so by training them, we could plant a seed of robust security culture in the organization.
Our training is based on more than a decade of network and social engineering penetration tests. Now we teach your staff how to defend against the bad guys.
TESTIMONIALS
What People Are Saying
The team took a meticulous approach, which helped inspire confidence in the relationship. By the first day of tests, Berezha Security found and resolved a mid-level security risk that was previously unknown. They also suggested ways to address minor issues without negatively affecting end customers.
In only three weeks, Berezha Security produced a report and re-checked things to ensure there were no security gaps. They offered free advice and communicated efficiently, promptly addressing all questions related to their findings. Overall, they're an experienced vendor in the cybersecurity field.
Their involvement was essential to fixing design flaws that could've led to cyberattack and other issues. Berezha Security's highly technical feedback not only improved the platform but also shed some light on things to take into account for future development work.
The thorough, detailed audit helped eliminate system flaws and increase customer confidence. Berezha Security stayed in constant contact so that issues could be addressed in real time. Their professionalism, clear reporting, and extensive knowledge of the industry made the partnership strong.
They filled a gap in in-house talent, allowing the delivery of a fully-tested product without having to invest in hiring new resources. Berezha Security's team understood project needs quickly and were easy to work with, making the collaboration seamless and rewarding.
Berezha Security led training sessions on application security to help raise awareness on our team and integrate secure development practices into the software development life cycle. It helped us understand more about application security, and we made a plan for further security development.
Get in touch to know more
Call Us
+1 (315) 303 2323
+380 (44) 364 7336
Mail
6 Nimanska St., 41, Kyiv, Ukraine 01103
Office
77 Sichovykh Striltsiv St., Kyiv, Ukraine